Global School of Learning (GSL)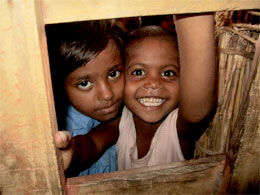 The Global School of Learning (GSL) provides a quality, CBSE-affiliated education to students from Nursery to 8th standard. Within the year, GSL will expand to 9th and 10th standard classes and will provide 11th and 12th standard by 2014. GSL is pioneering new approaches to learning, teaching, and experimentation. While preserving the best in traditional Indian and international education, we have opted for a student-centered system with increased opportunities for experiential and classroom learning that is guided by our skilled local and international educators. We believe that each student is uniquely talented. In order to ensure that every student receives full exposure, the school applies the Multiple Intelligences approach, developed by Dr. Howard Gardner from Harvard University.
GSL realizes the need to train younger generations to be emotionally strong with regards to togetherness and living in harmony. The school represents harmony in every aspect of life, a balance between work and play; tradition and modernity; local needs and global challenges; rights and responsibilities; and the empowerment of the individual and the power of the collective. In accord with our philosophy of harmony, the school is adopting bi-lingual medium of instruction. GSL aims to build and nurture a community of thinking, compassionate citizens of the globe, who are committed to living with responsibility, learning with enthusiasm, and balancing a strong work ethos with a sense of play.


GSL will be accepting applications between February 20th and March 20th.


For more information, contact us as info@fphed.org.
News & Events
14
July
2010

FPHED IN NEWS.
A movement launched to increase school enrollment of minorities in Bahraich - TwoCircle.net more>